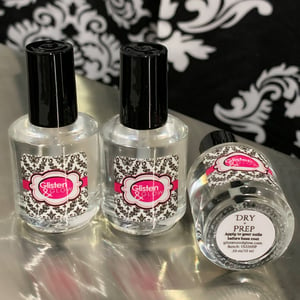 $

6.99
Glisten & Glow Dry + Prep

Size: .50 oz.
Glisten & Glow Dry + Prep
Glisten & Glow - Dry + Prep is a unique liquid that dehydrates the nail plate, self corrects the nail plates pH balance, and preps the keratin surface for maximum adhesion of base coats and nail polish. This also allows the nail to be free and clear of any residue and oils that can be can cause base coats and/or nail polish to lift or chip.
How to use: wash hands and nails with soap and water, dry hands and nails. Apply to the nail with the provided brush. Allow to dry for 30-60 seconds. Now apply base coat or nail polish to the nail.
Ingredients: Ethyl Acetate, Isopropyl Alcohol, Ammonium Hydroxide and Butyl Acetate
5 free product, Made in house by Glisten & Glow's 24+ year Licensed Nail Tech veteran and owner.
Store in a cool dry place